SFA Research Corner
A weekly publication that follows trends in the primary and secondary securitization markets and a brief analysis of the macro indicators that impact our industry.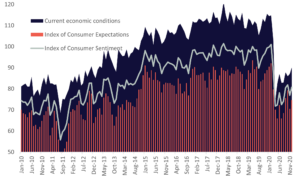 SFA Research Corner: Checking on Household Health After a Stressful Year – January 13, 2021

With a most extraordinary year behind us, we check on the credit health of U.S. households. Household's financial health drives demand for credit to make purchases and, along with employment, impacts a borrower's ability to repay debt. The securitization markets look to these metrics and others to better understand consumer demand for credit and changes to credit risk, a particular concern given the unevenness of the recovery. Read more.
---
SFA Research Corner: Middle-Market CLOs Resilient in Early Days of Pandemic as Labor Market Point To Rough Days Ahead – December 7, 2020
Strong structures helped middle-market CLOs weather the early days of the pandemic even as underlying corporate obligors struggled through the economic slowdown. Although economic activity has started to resume, a slowdown or reversal will challenge these companies, many of whom relied on government and private sector loans. Recent labor data shows that the impact of the disruption may last longer than originally thought.  Read more.
---
SFA Research Corner: Time to Take Off the Training Wheels? – November 23, 2020 
On November 18, the Office of Financial Research (OFR) submitted its Annual Report to Congress. The 177-page report concludes that "significant downside risks to financial stability persist amid high uncertainty" and that "[t]here remains a striking contrast between the quick recovery of financial markets and the slower recovery of the economy." We take a brief look at some of these risks and the potential impact on consumers, corporations, and securitization.  Read more.
---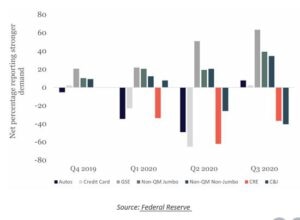 SFA Research Corner: Tightening Standards Continue Amidst Firming but Uneven Demand – a Look at the October Senior Loan Officer Fed Survey – November 16, 2020 
We take a closer look at the results of the October Senior Loan Officer Opinion Survey on Bank Lending Practices. Lending conditions remain tight. Loan demand has turned positive in the consumer sectors but remains weak for businesses.  Read more.
---
SFA Research Corner: Consumers May Find Themselves Between a Rock and a Hard Place – November 10, 2020 
The combination of payment relief programs and unprecedented support through stimulus payments have kept loan delinquencies and defaults low despite elevated levels of unemployment. New data shows that while deferral programs were readily available and utilized at the onset of the pandemic, this is not the case today. If recent labor market gains slow with rising COVID-19 cases, and the likelihood of a generous stimulus package disappears with a split Congress, some borrowers may find themselves caught between a rock and a hard place. Impacted households forced to reprioritize their wallet may leave some lenders unpaid, a trend that we are starting to see in auto loans.  Read more.
---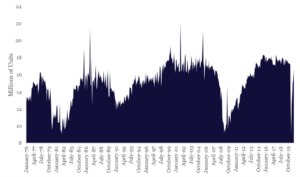 SFA Research Corner: The Road Back – Positive Macro Trends Support Auto ABS – November 2, 2020 
Third quarter data shows that the economy is coming back strongly but rising COVID cases and the absence of another stimulus package threatens this trajectory. We look at recent macro developments and the impact this has had on auto financing. Read more.
---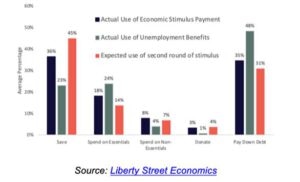 SFA Research Corner: Joblessness and Credit Scores Improve as Consumers Buckle Down – October 26, 2020
A recent post from Liberty Street Economics shows that households have used more of their government stimulus and unemployment benefits to pay off debt and to build savings rather than on consumption. This shift in preference, if it continues, will have implications for the broader economy.  Read more.
---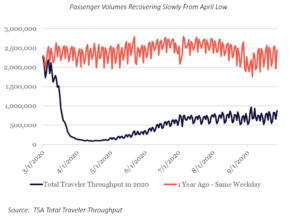 SFA Research Corner: Aircraft ABS Buffeted by COVID-19 Turbulence – October 13, 2020
The airline industry has been one of the hardest hit industries since the onset of the pandemic. While air travel has recovered from April's low, passenger demand has remained depressed as passengers, airlines, and governments navigate quarantine mandates, staggered re-openings, and still rising COVID-19 cases. The downward pressure on cashflows have impacted aircraft ABS resulting in downgrades across the space.  Read more.
---
SFA Research Corner: Macro Data Continues To Show a Slowing Recovery as Securitization Market Reports Strongest Month of  Activity Since Onset of Pandemic – October 5, 2020
Troubling labor market trends persist even as unemployment rate improves for the fifth consecutive month. Meanwhile, new BEA data shows households retrenched in August in reaction to the expiration of supplemental unemployment benefits. These developments may weigh heavily on securitization going forward. However, for now, the securitization market benefits from robust new issue activity and still-strong investor demand.  Read more.
---
SFA Research Corner:  Corporate Bankruptcies Hit Highest Levels in 9 Years – September 28, 2020

S&P Global Market Intelligence reports that corporate bankruptcies totaled 470 between January and September 2020, the highest number of filings for any comparable period in the past 9 years. Of these, 36 were so-called mega-bankruptcies as these companies had more than $1 billion in liabilities at the time of filing. Consumer discretionary, industrials and energy sectors led bankruptcy filings.  Read more.
---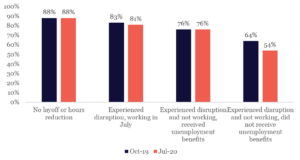 SFA Research Corner – September 22, 2020
The Fed's newly released Update on the Economic Well-Being of U.S. Households: July 2020 Results shows that Americans "experiencing employment disruptions were disproportionately likely to have difficulty paying bills, on average." While data continues to show some real improvements in the labor market and federal financial assistance has provided much needed support to the unemployed worker, heightened uncertainty remains, as noted by Federal Reserve Chair Powell at the September FOMC meeting.  Read more.
---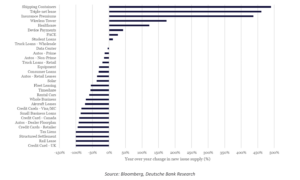 SFA Research Corner – September 14, 2020 
Although the supply of new bonds overall is down by about one-third from 2019, a closer look at the underlying data shows that the decline across asset classes have been far from uniform with some niche sectors seeing strong activity.  Read more.
---
SFA Research Corner – September 8, 2020
The headline unemployment rate fell to 8.4% in August as 1.4 million jobs were added. Improvements in the headline rate belie some troubling trends, namely a rise in the number of persons with permanent job loss and longer duration of unemployment.  Read more.
---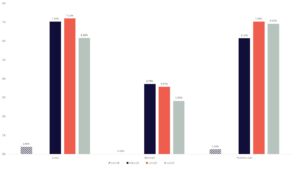 SFA Research Corner – August 31, 2020
TransUnion's Monthly Industry Snapshot shows the total percentage of accounts in "financial hardship" status dropped during the month of July, although remains well above pre-pandemic levels. Bankcards show the most decline, dropping 20%, and personal loans, the least, down 1.6%. Read more.
---
SFA Research Corner – August 3, 2020
Although the monthly enrollment rate has slowed significantly, the percentage of accounts in payment relief programs rose to unprecedented levels in May and remained at elevated levels in June. The take-up rate differs by asset class – mortgages, autos, and personal loans have higher participation rates than bankcards. Read more.
---
SFA Research Corner – July 28, 2020
As of July 21, the third subscription date, total TALF loan requests have reached $1.9 billion, with almost half of that going to finance the purchase of securitizations collateralized by loans made under the U.S. Small Business Administration's 7(a) and 504 loan programs, which may include PPP loans. Loans for the purchase of CMBS, premium finance ABS (which are backed by loans to finance property and casualty insurance) and private student loan ABS comprise the remainder. Absent from this list are loans to purchase ABS backed by autos, credit cards, equipment loans and dealer floorplan loans as these sectors have recovered significantly since the end of Q1. Read more.
---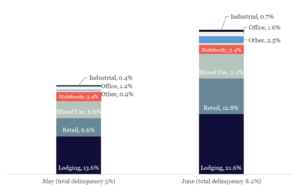 SFA Research Corner – July 20, 2020
CMBS delinquency rates ratcheted higher in June. Kroll Bond Rating Agency reports that the overall delinquency rate for KBRA-rated CMBS jumped 64% from 5% in May to 8.2% in June. While deteriorating performance has been expected, some commercial real estate segments have been impacted more than others. Read more.
---
SFA Research Corner – July 13, 2020
While re-openings have restored some jobs and incomes, the resurgence of the virus is having a negative impact on consumer demand. Read more.
---
SFA Research Corner – June 30, 2020
As of June 13, over 19.5 million Americans drew unemployment benefits. Since the enactment of the CARES Act in March, these benefits have been more generous in terms of quantity and duration. A person who files for unemployment today may be able to receive benefits until the end of the year. For some of those weeks, the unemployed worker will receive a substantially higher amount than what is received through regular unemployment benefits. These unemployment benefits and other government sponsored payments have had a substantial impact on personal income. If the jobs do not return to pre-COVID levels, what happens to the consumer when these programs expire? Read more.
---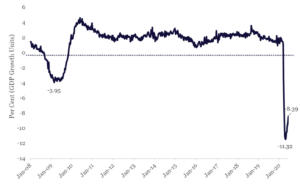 SFA Research Corner – June 22, 2020
The COVID-19 pandemic continues to evolve rapidly. Traditional indicators that track economic and industry performance on a monthly or quarterly basis provide a less-than-complete picture of where we've been, much less of where we're heading. As we enter a new stage of the pandemic, with new coronavirus cases rising and municipalities poised to implement new targeted shutdowns, we look at two high frequency data sources to better understand the impact of the pandemic on real economic activity. Read more.
---
SFA Research Corner – June 15, 2020
The ABS market continued its rally last week as some secondary market spreads approached the tightest levels of the year. For the first week of June, the primary market issued $6 billion of bonds financing a diverse mix of corporate and consumer loans. The jobs picture remains bleak, but improving. Weekly initial jobless claims show that another 1.5 million Americans became unemployed in the week ending June 6. On net, nearly 20 million jobs have been lost since February, according to Fed Chair Powell. The Fed expects the unemployment rate to fall to 9.3% by year end, from today's rate of 13.3% (or 16.1% if misclassified unemployed individuals are included in the calculation). Read more.
---
SFA Research Corner – June 8, 2020
By far the biggest news last week was the surprising improvement in the headline unemployment rate, which dropped from 14.7% in April to 13.3% in May, thanks to the addition of 2.5 million jobs. The May headline better is far better than the expected consensus of 19.8%. Some of the disparity maybe explained by a misclassification of data; the BLS has noted that absent this misclassification the May unemployment rate would have been 16.1%. The secondary securitization markets continued to improve with the most liquid of the ABS asset classes returning to early-January levels and other asset classes continuing their march towards pre-COVID levels. Read more.
---
SFA Research Corner – June 1, 2020
April's weak housing data reflects a market reeling from COVID-related demand shocks while April delinquency and forbearance data shows the effects of joblessness. Given the correlation between unemployment and the housing market and mortgage performance, any sustainable improvement will depend on how quickly and definitively jobs will come back, which is perhaps why the improvement in continuing claims, the first improvement since the pandemic outbreak, may be the first glimpse of the light at the end of the tunnel.  Read more.
---
SFA Research Corner – May 18, 2020
Another 2.9 million Americans became newly unemployed for the week ending May 9. With output expected to remain constrained for the remainder of the year, high unemployment is likely until then, according to the Congressional Budget Office. High joblessness has pushed demand for new autos to new lows. Read more.
---
SFA Research Corner – May 8, 2020 
After falling for 10 consecutive years, we are now facing a level of joblessness not seen post World War II. While the employment carnage is slowing – the current level of initial unemployment claims is less than half of the level recorded five weeks ago – the impact on consumer credit is just beginning to be revealed. Read more.
---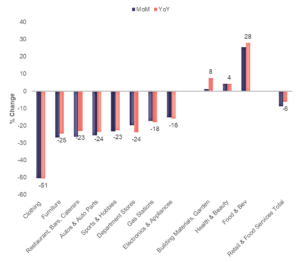 SFA Research Corner – May 1, 2020
With a few exceptions, the primary and secondary markets for TALF-eligible ABS continued to see improvements. CLOs, in particular, have been under pressure as rating downgrades on loan collateral reach new highs. New issuance reached $13 billion in April, a drop of 76% from one year ago. For the year, issuance across RMBS, ABS, CMBS and CLOs is down 30%. Read more.
---
SFA Research Corner – April 23, 2020
The conditions in the primary and secondary ABS markets continue to improve. We expect to see the impact of joblessness, forbearance and deferrals in ABS/ RMBS portfolios in the coming weeks. Read more.
---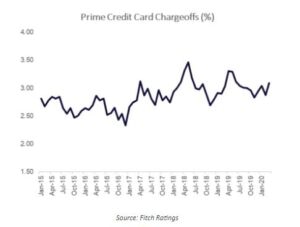 SFA Research Corner – April 16, 2020 
Announcing the inaugural edition of the Research Corner, where we track the performance on the consumer and business lending that our market finances and the economic impact of the structured finance industry, including market movements and macro signals that impact our members. Read more.