SFA Podcast: Bright Ideas

SFA is focused on offering relevant content on a variety of accessible platforms.  With that in mind, we are pleased to introduce the Structured Finance Association's newly launched podcast, Bright Ideas.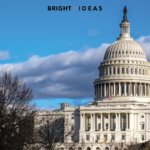 Bright Ideas: The Scientific Frontier Featuring Representative Bill Foster (D, IL-11)
On the most recent edition of SFA's Bright Ideas podcast, Michael Bright is joined by the only Ph.D. physicist serving in Congress, Rep. Bill Foster (D, IL-11). Together, they discuss scientific discovery and its uses in financial services, reflecting on Rep. Foster's role as Chair of the House Financial Services Task Force on Artificial Intelligence and member of the Science, Space, and Technology Committee.

Click here to listen. 


---
SFA's CEO Michael Bright spoke with labor economist and renowned social and political commentator Dr. Julianne Malveaux about diversity and race relations. During the podcast, several issues were addressed, including the efforts SFA is making to diversify the structured finance field, the recent George Floyd protests, and the pitfalls of performative allyship. 
---
SFA's CEO, Michael Bright, sits down with the President of the National Community Stabilization Trust, Julia Gordon, to discuss how the COVID-19 pandemic is affecting the housing market. They discuss what communities are being impacted the most, and what policymakers can do to help.
---
Three months after new TALF was announced, it went live on June 17th – but a lot has happened in those three months. Markets have recovered, stimulus bills have been passed, the country "flattened the curve" with COVID-19, and now we are looking at the next sets of potential risks. But will this all last? And how much did TALF provide a calming effect to ABS sectors? In this podcast, we will talk macro credit and look at some sectors that did – and some that did not – get included in TALF's safety net.
---
Michael interviews Marco Davis, President and CEO of the Congressional Hispanic Caucus Institute, where they discuss the impact on the Latino community of COVID-19, institutional bias, and the ongoing protests, as well as how Wall Street can help young Latinos gain access to jobs in finance coming out of college.
Listen to our first episode and stay up-to-date on future episodes here.
---
As we all adjust to life in the age of COVID-19, SFA is focused on bringing you relevant content on platforms that make the most sense for the moment. Today, we introduce the Structured Finance Association's podcast: Bright Ideas. In our first episode, our CEO Michael Bright and infectious disease specialist and epidemiologist Dr. Peter Leone discuss the COVID-19 crisis against the backdrop of past pandemics. 
Listen to our first episode and stay up-to-date on future episodes here.