By Leslie Sack, Head of Government Relations of SFA
As we launch into the 2020 election year, the Congressional calendar will be, for all intents and purposes, truncated in a way that favors action early in the year. Congress has fewer days in session during election years, so the early months of 2020 will be key in teeing up legislation for inclusion in an end-of-year spending package that members will return to finalize after Nov. 3. Before then, members will be focused on their legislative districts, where they will be devoting time and money to convince their constituents to re-elect them. Regardless of the election's outcome, a light legislative calendar in the beginning of the year will give way to a busy lame duck at the end of the year.
Senate Republicans have a 53-47 majority going into the 2020 election. If Democrats pick up four seats, they would own the Senate majority. If Democrats only pick up three seats, the Chamber would be evenly divided and the majority would be decided by the party that wins the White House. Both parties are going to be defending two seats in states where the opposing party's 2016 Presidential candidate secured victories. For President Trump, both Michigan and Alabama, where he won, have a Democratic Senator running for re-election. Conversely, although Secretary Clinton won Maine and Colorado, both states are currently represented by a Republican Senator. Arizona, North Carolina and Iowa are also viewed as battleground states, as well as Georgia, for which both Senate seats are up for grabs (one via special election).  
In the House of Representatives — where all 435 Members must be re-elected every two years — Republicans will need to flip 18 seats in order to regain a majority, following the Democrats net gain of 40 seats in 2018. Republican targets include the 31 Democrat-held seats in 2016 Trump-supporting districts, including races in Iowa, Illinois, Minnesota, New Jersey, New York, Pennsylvania, and Virginia.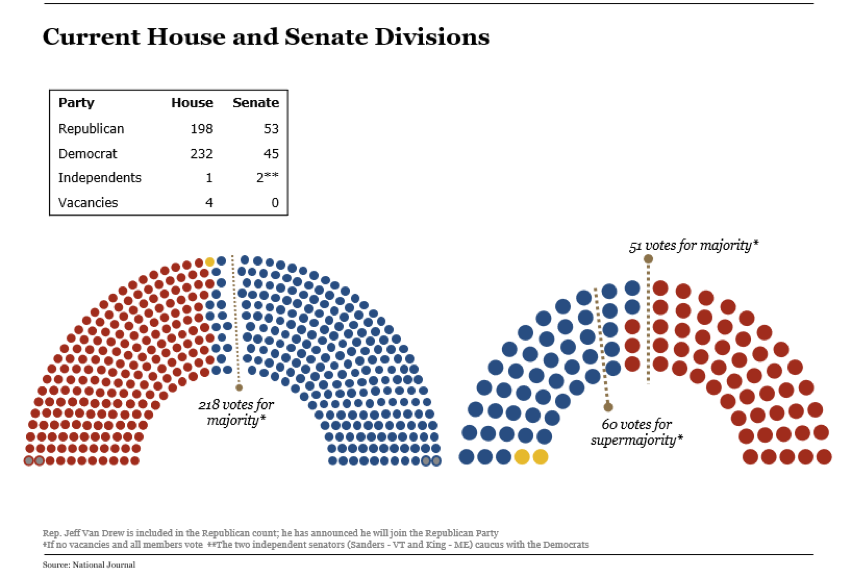 Key Dates:
•February 3 – Iowa Caucuses
•February 11 – NH Primary
•March 3 – Super Tuesday (AL, AK, CA, CO, ME, MA, MN, NC, OK, TN, TX, UT, VT, and VA)
•July 13-16 – Democratic Convention (Milwaukee, WI)
•August 24-27 – Republican Convention (Charlotte, NC)
•November 3 – ELECTION DAY!
While election day is still months away, conventional wisdom at this point would indicate that Republicans are likely to hold the Senate and Democrats are likely to maintain control of the House. Of course, a change in Administration would turn about significant shifts in policy and bring an end to the current cross-industry deregulatory trend. Foreign policy uncertainties and risks continue to impact the global financial markets, as well, and should not be understated as we enter an election year where several outstanding geopolitical risks remain unresolved.